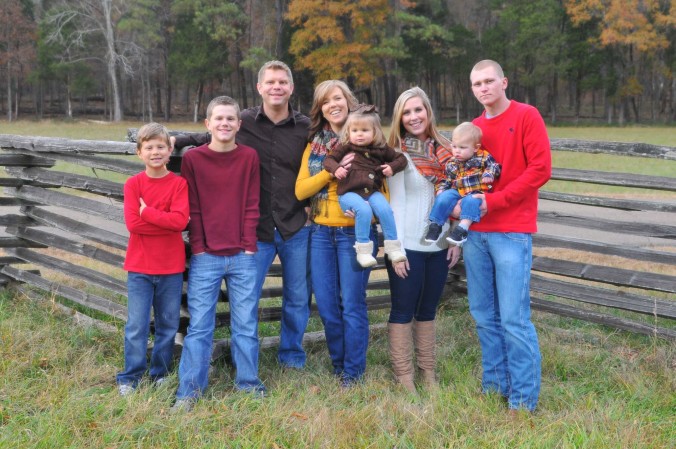 About Us
Hi!
We are Carey and Ronnie Brown. We are the hosts of "For The Love Of Us Podcast". We live in the mountains of northwest Georgia. Ronnie works as an engineer for Automation IG Inc.  and, since 2007, he has served as the pastor of Bethany Baptist Church in Rossville, Ga. Carey is a stay-at-home-mom.
We are the parents of four of the most amazing kids a couple could have. From left to right: Grayson, Evan, Calynn, and Allison. We are Grand Ma'am and Pappy to the coolest grandson ever: Westin (the little guy in the rad plaid). We have one of the hardest working son-in-laws in the world, Garrett (tall guy on the end).
Our Story
In 1998, after a lot of ups and downs in their relationship, Carey and Ronnie were married at Slygo Missionary Baptist Church and established their home in Wildwood, Georgia. In 2001, Ronnie surrendered to the call to preach and for the next several years preached in rescue missions, jails, retirement centers, and various area churches. In 2007, a call was extended to Ronnie to pastor Gethsemane Baptist Church. He answered that call and entered upon the ministry of pastor. Gethsemane Baptist Church was later reorganized into Bethany Baptist Church.
So Why This Podcast / Blog?
The intent of this podcast and blog is to share various aspects of faith and family; of ministry and marriage; of labor and love in order to help and encourage so many others who face similar struggles. We hope and pray that it will be an inspiration, a help, and a blessing to others.
Please take the time to subscribe to our newsletter to receive updates and notifications.